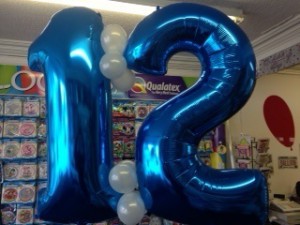 These 34″ letters and numbers are fantastic as signage or birthday milestone. The numbers are available in our retail shop for £8 each in Silver, Gold, Fuchsia, Blue and Black. If you want them connected it's best to order in advance by emailing sales@balloon.co.uk
Creating wording for a message or a logo is not as straight forward. When creating a word we charge extra for arranging or hanging the letters. It's also necessary to have a backup of spare letters incase a faulty letter deflates. We don't stock every letter in every colour so you need to order in advance.
These 34″ balloons will last at least 7 days, you'll find they're go on for weeks but gradually get softer and softer.
See also our arch with numbers for a 21st Birthday party.
UPDATE: We were back at Toolbank in March 2016 but this time 2 sets of wording was required.