Balloon Arch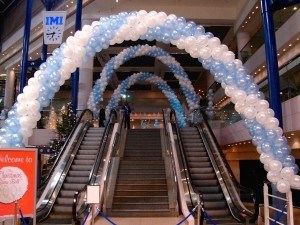 Balloon arches are a fantastic, cost effective way to decorate a stage, retail outlet or race mile marker. We build balloon arches outside or inside with air or helium on frames or floating. Helium arches float for several days when treated with Hi-Float. Air filled archways last 3-4 days depending on outdoor conditions. Most retail stores require an early morning installation at around 8am, we allow at least an hour build time per arch. Once installed we email or tweet a photo for your peace of mind. On larger projects that require more archways we work overnight to ensure we're finished and out of the way so you can get on with planning the rest of your event. We do not offer a set price per arch as the cost is dependant on location and access times.
Retail Arches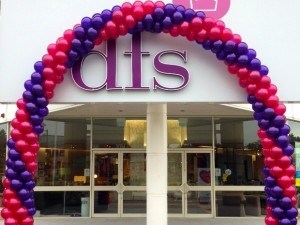 We believe an arch over a retail store should not cover the logo. It's easy to build a small archway over the double doors but usually this blocks the shop sign and when promotional photographs are taken for a press release or social media you can't see the name of the shop. Our arches span the shop front and frame the sign to promote your image and draw interest from the whole High Street, they are on a rigid yet flexible carbon frame and will last several days if taken inside at night. An air filled arch on a frame lasting 3-4 days delivers better value than a small helium solution for a 1 day event.

Balloon Arch Prices
The price for each arch is dependent on location rather than the actual size of the arch. We spend more time traveling to and from your location than we spend inflating the balloons.
Example costs arch in Manchester:
1 x 25ft Arch on Flexible Carbon Frame – £250.00

1 x Delivery & collection to Manchester – £145.00

Total – £395.00+vat
We are based in Birmingham so installation and setup costs vary.
Single Line Arch
If you have less budget and your party is indoors we can build a single line arch to frame your top table or entrance. A single line of pearl balloons are not suitable for outside events as they do not have the bouyancy to withstand the smallest of winds but they're fine for indoor events.
How to make a balloon arch:
Here's our  how to video using helium and 11″ balloons:
Inflate the balloons and tie them together into 'duplets'
Twist the 'duplets' together into clusters of 4
Twist the line around the balloons to lock them in place
Repeat and spiral the colours to make a pattern
Knock the arch into shape to avoid an 'A' shape
Use sand weights to hold it down
Balloon Arch History
In the late 1980's arches were primarily made with cheap balloons helium filled. Originally there was no way to make a pattern as we just tied the balloons randomly to kite line until we ran out of space and felt the arch looked 'full'. Later we discovered that by adding clusters in different formats we could spiral or zigzag a pattern but we still used helium.
Helium shapes tend to blow around in the great outdoors and it's not always possible to create that symmetrical arch look. The moving helium arches have advantages and disadvantages depending what is being decorated.
In the late 1990's when bases and poles were introduced for columns we began building air filled structures with an aluminium link between the bases. With the increase in helium costs this helped to keep costs down and we learnt that structures stand up better in windy conditions.
In 2014 advanced carbon frames were introduced with large solid bases, these solid flexible structures are hard wearing and span a greater width than the old bases and poles which could only handle a double doors entrance.
Fun Run Arches
Milemarker and fun rum start arches are becoming more and more popular. Depending on the number of participants the arch may need to be kept well above the runners so scaffolding towers are required. We use larger 16″ helium filled balloons to give buoyancy and strong 500b nylon line to keep everything in place.
We've worked as freelancers with a group of balloon companies on The London Marathon for over 20 years. The arches are placed over every mile marker and built between midnight and 8am.
Dulux Colour Run
We've travelled across the UK and Ireland with the Dulux colour run and New balance decorating their start for 2013, 2014 and now 2015. This year we'll be adding a bit of sparkle and there could be a colour change. It's great to see events like this grow as they add extra venues each year. All the runners start in White shirts (that's why the balloons are White) and they get covered in colourful paint as they run.
Smaller Races and Park Runs
For smaller races scaffolding may not be required. The below example is freestanding and can be pegged down to for extra safety.
The below was for a small event where 10 cyclists were riding from Sheffield to Birmingham. A free standing arch worked fine but you can see the possible problems with extreme heavy rain. The structure struggles to carry the weight of the water and this could prove dangerous if there were thousands of runners (or cyclists).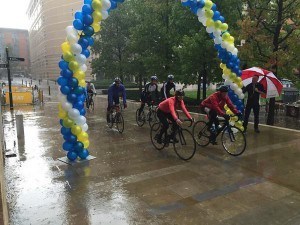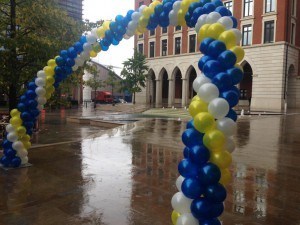 N.B. This was extremely heavy rain.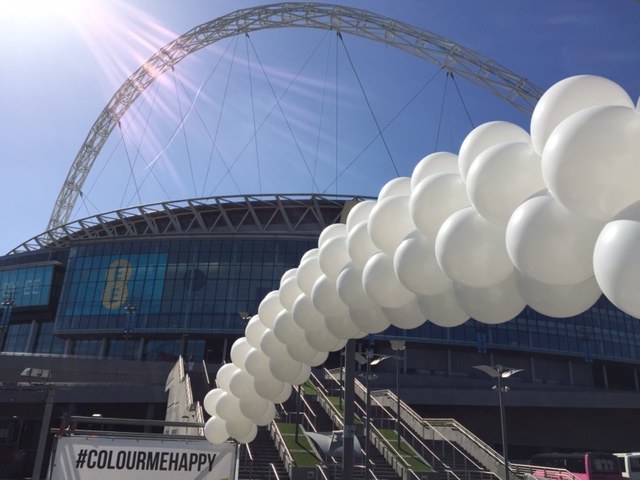 30th August – Colour Run Belfast To save risk of a flight delay we traveled over to Belfast on Friday afternoon and built this start arch in the Titanic Quarter Saturday morning. We also supplied some promotional balloons and helium for giving away after the... read more