Balloon Drops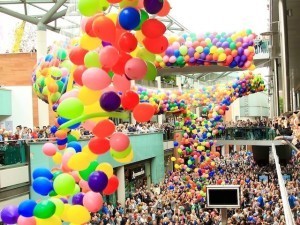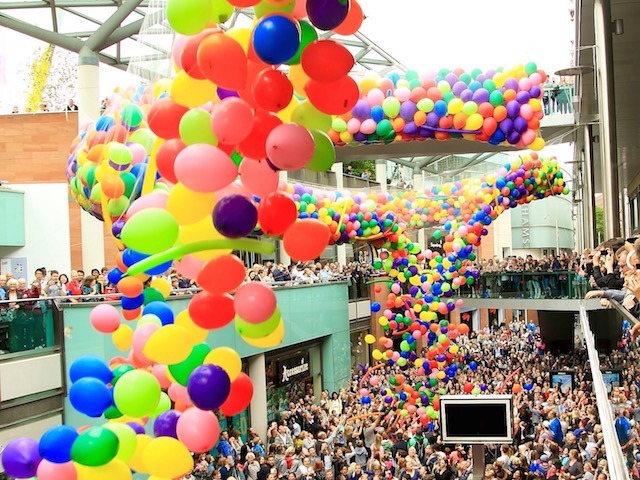 Nothing is more spectacular and effective as a classic balloon drop. We specialise in balloon drop installation large or small. We have never failed to rig a drop anywhere – no matter how low or high the ceiling area.
Our drop nets are cut to size to fit your venue and we inflate all balloons on site, rig the net and place the pull string where required. We also make sure the pull string is in a secure area away from the public.
We use a chain stitch to seal the long open side of the net. This is a tried and tested method which produces no friction when pulling. It also means the net can be dropped from anywhere on location, not just in a direct straight line view of the drop.
The nets are tube shaped rather than a flat square. We support them using 500lb nylon line and a thinner 50lb dacron for the pull cord.
On 22nd July 2015 we dropped 7000 balloons over the Liverpool One shopping mall. This involved 5 crew working overnight inflating and rigging. We inserted 3500 vouchers into the balloons which included 500 winning prizes. The marketing team at the shopping mall launched an online viral campaign and their Facebook video hit 30,000 views in the first 24 hours.
3ft Balloon Drop
If you're looking for something different we can drop larger 3ft balloons. The principle is the same and the total weight of the installed net is no different. 3ft Latex are usually knocked back into the air so beware of broken bottles and glasses if your venue is not conference style.
See also this awesome photo of a drop in action at The Roundhouse, or videos of drops at The Blackpool Tower Ballroom in 2015 & 2016.
Here's some of our recent drops: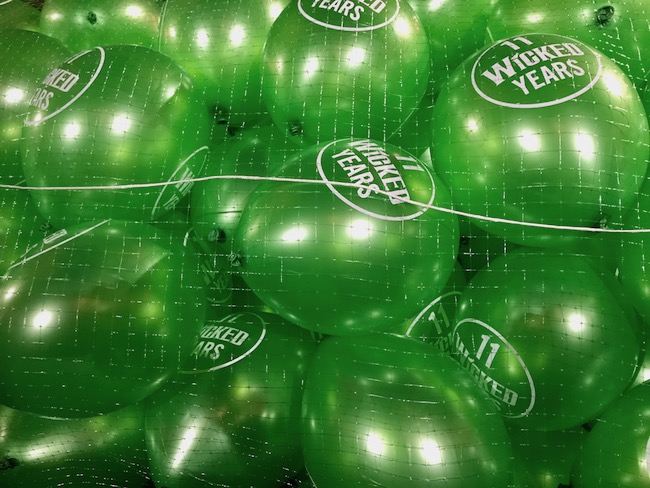 We helped Wicked celebrate 11 spellbinding years with another WICKED 2000 balloon drop. To mix things up I went for a brighter Lime green balloon as the branding on their website had changed. You can see previous installations here. As cameras are not allowed in...