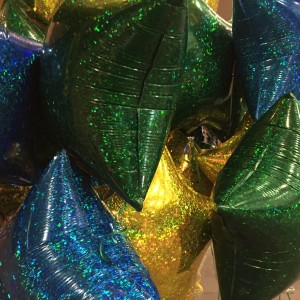 This year (2016) we also had 87 tables to decorate. We opted for Holographic Foil Stars, firstly because they look that little bit special but also because they are a more reliable balloon. Recently we've been having quality problems with various foil manufactureres and although glittery balloons are more expensive they feel more robust and we don't waste time & helium inflating faulty products.
This is a simple enough job despite the quantity because we have all day access and it's an evening function. However, if the foils prove to be faulty things start getting difficult as we waste time and helium inflating faulty products. This year we arrived at 9am with 150 pre inflated and were finished for 1.30pm.
---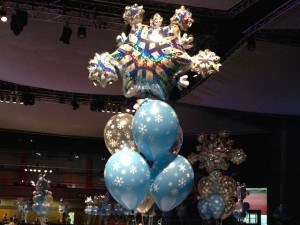 January 2015:
We decorated Hall 3 of The ICC in Birmingham with 87 bouquets of 6 latex balloons topped with a giant prismatic snowflake.
We inflated all 530 latex the day before the event and delivered them to the venue. As the foils are so big we did these on the day. We tested 3 from the top, middle and bottom of the stock a week before to check none were faulty.
We also delivered 87 party packs wrapped in cellophane with Blue and White bows. The party packs includes wigs, blowouts, toys, poppers, streamers and games.
We arrived on site at 10am and 2 staff completed the room decorations before 3pm.