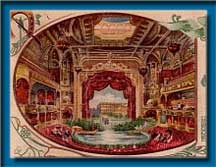 This New Years events all went smoothly (a bit like last year). I had more work in London this year including the above photo from The Hippodrome in Leicester Square. You may be interested to know that at the turn of the 19th century live animals were thrown from this balcony.
I found the best way to manage my time is to say "NO". I only accepted work that I knew I could easily slot in, giving myself plenty of time to chill (eat & drink coffee) between each venue.
Rather than cope with a 2am start I got myself a hotel in London, the extra few hours sleep really made a difference.