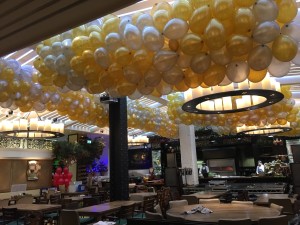 For the last 3 years I've been decorating a large restaurant in Mayfair early AM before it opens. The venue is made up of several smaller restaurants each serving different styles of food. Previously they've ordered 5 large drops and it's been a tight turnaround to finish before 10am.
This year they doubled the order requesting 8 drops and 8 exploding balloons. To accomplish this I took a crew of 4 arriving at 5am, finishing for 9.30am. Doing jobs like this with an early start is epic but on new years eve we have to continue working thoughout the day servicing various clubs and bars in Birmingham.
I could happily just decorate this place and finish for the day, no point working yourself into the ground and no need to be greedy. The problem occurs if this client suddenly decides they no longer want balloons and I've then lost all our regular work.
As a small company with low overheads I take advantage of some awesome freelance decorators in London. After helping me and nicking my Diet Coke they went here for the rest of the day.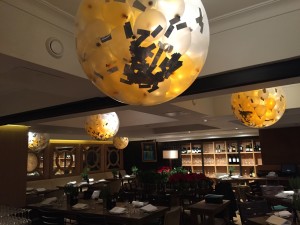 There's an unwritten rule when working on balloon drops that the guy who's job it is primes all the chain stitches. I'd rather mess with my own drops anyway but it's hard work relentlessly going up and down the ladders. The finished result looked really spectacular and delivered that sense of anticipation and excitement you expect at New Year.