SPAR retail promotional arch in Worcester. This was the first occasion we discovered that heavy rain will stop the gaffa tape from sticking to the carbon frame.
We used a frame and bases on this one to protect against high winds….. and wet weather.
As we were travelling to the store twice in 1 day (we had to return to collect the frame) we supplied a helium cylinder for their promotional balloons and picked it up with the frame.
---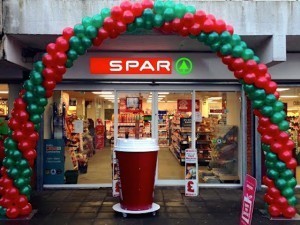 Here's another Spar arch. As previously described they're not easy to put together on your own but I've now had plenty of practice as you can see in the video below.
This one was installed in Camberley for an 8am opening. I always try to arrive an hour early to avoid traffic and hassle and it was lucky I did, it was heavy fog and I just managed to avoid a 40 car incident on the M40.