Printed Balloons
The minimum number of balloons we'll print is 50 but the more you order the more cost effective your print run will be. Every order requires a custom made screen, ink change and machine setup so the bigger the quantity the easier it is the lose these setup costs.
Example costs for a run of 50:
50 10" Assorted latex balloons printed 1 side, Black ink – £75.00

1 Postage & Packing – £8.00

Total – £83.00+vat (£1.66 per balloon)
Example costs for a run of 1000:
1000 10" Red latex balloons printed 1 side, White ink – £139.00

1 Postage & Packing – £10.00

Total – £149.00+vat (15p per balloon)

---
Artwork Requirements
We accept your artwork in various formats, remember that balloons are printed whilst inflated so ideally we require a 4″ x 4″ size. Depending on the sizing you supply we will enlarge or reduce your artwork until it fits inside our 4″ x 4″ square. If you require a 1 colour logo we accept JPEG or PDF files. Try to avoid sending WORD documents as font matching on different computers can change the wording layout and look. If your logo is more than 1 colour it's best to send an EPS or AI file so we can colour separate each layer and build a different screen for each colour.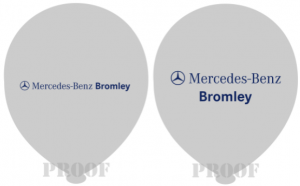 As there is only a limited width available to print it's sometimes better to spread your wording or logo onto more lines – the wording will be bigger and your message will be easier to read. Long domain names are a good example – sometimes it's better to leave out the www's as the wording may become so small it's almost unreadable.
---
Visual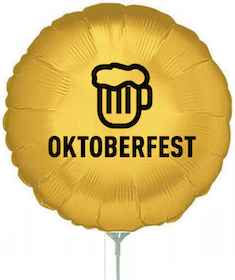 Depending on artwork quality we can build a visual in your required colours at no extra cost. In cases of poor artwork that may need a redraw we can quote on inspection of your artwork.
3ft Latex balloons:
We also print GIANT 3ft latex balloons with a minimum run of 10. A bigger artwork file is required for these as we create a 30″ screen and enlarging a decent vector file gives better results. These large balloons are ideal for columns or exhibition stands.   Or simply air fill them for throwing over a crowd at concerts and fun runs.
---
FAQ
What size balloons should I buy, 10"  or 12"? At first this seems like a no brainer because the larger balloons only cost a fraction more and that's because you are mainly paying for screens, setting up the machine and then cleaning the inks down. It's not that simply though, the 12" balloons use twice the helium of a 10", so as helium is the most expensive component 10" is the better option. Even if you're air filling they will take up twice as much space if you go for the 12".


---

Metallic finish or plain latex? The metallic shine looks better if decorating an event or party and they're not available in the 10" size. The plain latex finish is better for promotional giveaways.


---

Do I need self sealing ribboned valves? If you're inflating large quantities of balloons on a single day (let's say over 100) you'll probably want to go for the valves to save tying knots and so save your fingers. If you only need to inflate 30 or 40 then tying knots is better because the balloons will be lighter and float longer without the valves. The valves do not look good for corporate party decorations, it's best to hand tie with matching coloured ribbon or find a local balloon professional to do it for you.


---

Do I need Cups & Sticks? You only need these if you're air filling and giving the balloons away. You do not need cups and sticks when helium filling and they are difficult to use for party decorations because they don't stand up (they're designed to be held by hand). It's a good cost effective alternative if you don't have the budget for helium or the area you're working will not allow helium. If you're inflating a large quantity with air you'll need an electric air inflator.


---

What sort of artwork is required? On most occasions a PDF or JPEG file will be fine if you're going for a 1 colour print. If your logo is more complicated we'll need an EPS or ai file so we can separate the layers. For best results enlarge your artwork to fit in a 4"x 4" square.


---

How long will my balloon printing take? We can deliver in less than 7 days. To speed things up you can help by sending excellent artwork but for quantities over 10,000 it's best to drop us an email with your required deadline date.


---

Will my balloons arrive inflated? We do offer this service but the prices we quote for printing are for supplying the balloons flat. If you do need on site inflating we'll need the location and available access to provide a cost.


---

How long will my printed balloons last? If they are stored flat in a boxed plastic bag they will last for years (even though latex is 100% biodegrade). It's best not to let them get too cold. If you inflate your balloons with helium they will float approximately 20 hours depending on the environment. You can treat with Ultra Hi-Float which can help a 12" balloon float up to 4 days. When air filling and slightly under inflating they can last for weeks or until they're popped.


---

Can I have a visual? Yes we provide a visual in your selected colours for free. We can usually mock something up within an hour depending on the quality of your artwork file. On some occasions we may need to have your image redawn which may cost extra.


---

Can you match my pantone colours? We can match the ink colours but not the balloon colours. An ink colour match works well when printing on White balloons, it's not so simple on darker colours. A colour printed on a Black balloon will look different depending on how large it's inflated.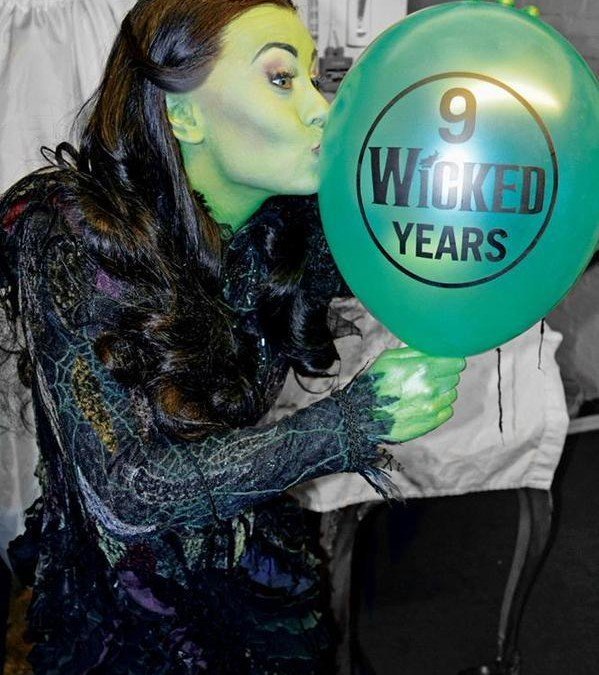 Amazing to help celebrate 9 spellbinding years for Wicked this September 2015. They dropped 2000 Emerald Green balloons and were lucky enough to watch the show, it's a fantastic story and the songs just blow you away. We've rigged this drop for the... read more