Printed Balloons
The minimum number of balloons we'll print is 50 but the more you order the more cost effective your print run will be. Every order requires a custom made screen, ink change and machine setup so the bigger the quantity the easier it is the lose these setup costs.
Example costs for a run of 50:
50 10" Assorted latex balloons printed 1 side, Black ink – £75.00

1 Postage & Packing – £8.00

Total – £83.00+vat (£1.66 per balloon)
Example costs for a run of 1000:
1000 10" Red latex balloons printed 1 side, White ink – £139.00

1 Postage & Packing – £10.00

Total – £149.00+vat (15p per balloon)

---
Artwork Requirements
We accept your artwork in various formats, remember that balloons are printed whilst inflated so ideally we require a 4″ x 4″ size. Depending on the sizing you supply we will enlarge or reduce your artwork until it fits inside our 4″ x 4″ square. If you require a 1 colour logo we accept JPEG or PDF files. Try to avoid sending WORD documents as font matching on different computers can change the wording layout and look. If your logo is more than 1 colour it's best to send an EPS or AI file so we can colour separate each layer and build a different screen for each colour.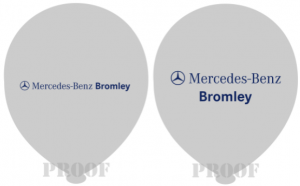 As there is only a limited width available to print it's sometimes better to spread your wording or logo onto more lines – the wording will be bigger and your message will be easier to read. Long domain names are a good example – sometimes it's better to leave out the www's as the wording may become so small it's almost unreadable.
---
Visual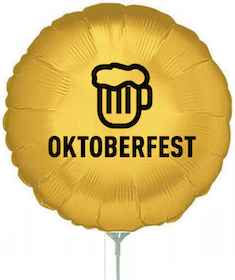 Depending on artwork quality we can build a visual in your required colours at no extra cost. In cases of poor artwork that may need a redraw we can quote on inspection of your artwork.
3ft Latex balloons:
We also print GIANT 3ft latex balloons with a minimum run of 10. A bigger artwork file is required for these as we create a 30″ screen and enlarging a decent vector file gives better results. These large balloons are ideal for columns or exhibition stands.   Or simply air fill them for throwing over a crowd at concerts and fun runs.