Printed Balloons
Promotional balloons are a cost effective way to communicate your message. We use the screen printing method to produce bright sharp logos even on dark coloured balloons.
10″ Printed balloons are used for give aways and releases, they are 100% bio-degradable and come in a variety of pastel colours also commonly used with ribboned valves and cups & sticks.
12″ Metallic latex are used for indoor decorations, arches and table centres. They can be used with valves for give aways but as they are larger they use twice the helium of a 10″ balloon. They have a metallic shine to them but they are latex (not foil).
For costs and turnaround times email sales@balloon.co.uk and we'll get back to you fast and make your ordering easy. All orders are sent with guaranteed delivery in 7 days or less.
It's most likely you'll be giving these items away so you need something that meets your budget but still delivers the fun factor. The best option is helium filling, families love to take a floating balloon home. If you want to inflate more than 100 on a single day you'll need self sealing valves to save time and your fingers. Tying a knot in a balloon can be tricky if it's not something you do everyday. If you're giving away over a longer period and you just need to tie a handful everyday you wont need valves.
For a smaller budget or maybe you're venue does not allow helium you can air fill and attach to cups & sticks. If you're inflating over a long period this can save renting helium cylinders. To air fill your printed balloons you'll either need a small electric inflator of a simple hand pump.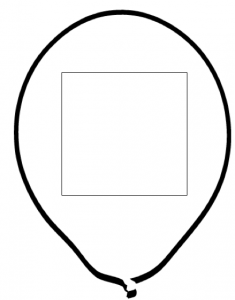 Artwork Requirements
We accept your artwork in various formats, remember that balloons are printed whilst inflated so ideally we require a 4″ x 4″ size. Depending on the sizing you supply we will enlarge or reduce your artwork until it fits inside our 4″ x 4″ square.
If you require a 1 colour logo we accept JPEG or PDF files. Try to avoid sending WORD documents as font matching on different computers can change the wording layout and look.
If your logo is more than 1 colour it's best to send an EPS or AI file so we can colour separate each layer and build a different screen for each colour.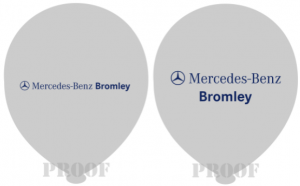 As there is only a limited width available to print it's sometimes better to spread your wording or logo onto more lines – the wording will be bigger and your message will be easier to read.
Long domain names are a good example – sometimes it's better to leave out the www's as the wording may become so small it's almost unreadable.
Visual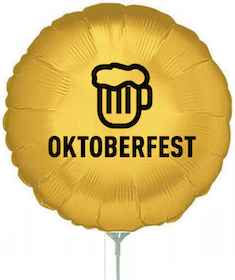 Depending on artwork quality we can build a visual in your required colours at no extra cost. In cases of poor artwork that may need a redraw we can quote on inspection of your artwork.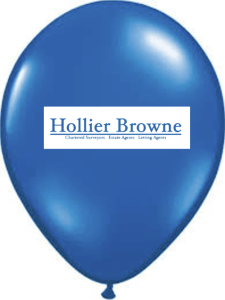 3ft Latex balloons: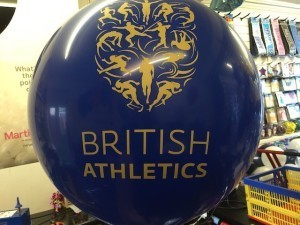 We also print GIANT 3ft latex balloons with a minimum run of 10. A bigger artwork file is required for these as we create a 30″ screen and enlarging a decent vector file gives better results. These large balloons are ideal for columns or exhibition stands.
Or simply helium fill them and they fly them above your promotional event: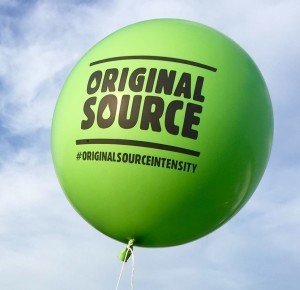 See more printed balloons: