Arches from £195.00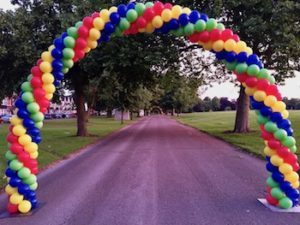 Balloon arches are a fantastic, cost effective way to decorate a stage, retail outlet or race mile marker. We can build an arch outside or inside with air or helium on frames or floating. Helium arches float for several days when treated with Hi-Float. Air filled archways last 3-4 days depending on outdoor conditions. Most retail stores require an early morning installation at around 8am, we allow at least an hour build time per arch. Once installed we email or tweet a photo for your peace of mind. On larger projects that require more archways we work overnight to ensure we're finished and out of the way so you can get on with planning the rest of your event. We do not offer a set price per arch as the cost is dependant on location and access times.
If you have a large chain of stores and you're planning a promotion take a look at the 43 arches we installed across the UK in 1 day, the 20 we built overnight or the 15 for London Revolution.
Retail Arches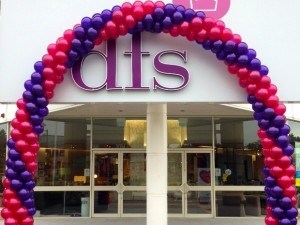 We believe an arch over a retail store should not cover the logo. It's easy to build a small archway over the double doors but usually this blocks the shop sign and when promotional photographs are taken for a press release or social media you can't see the name of the shop. Our arches span the shop front and frame the sign to promote your image and draw interest from the whole High Street, they are on a rigid yet flexible carbon frame and will last several days if taken inside at night. An air filled arch on a frame lasting 3-4 days delivers better value than a small helium solution for a 1 day event. The price for each arch is dependent on location rather than the actual size of the arch. We spend more time traveling to and from your location than we spend inflating the balloons.
Single Line Arch
If you have a smaller budget and your party is indoors we can build a single line arch to frame your top table or entrance. A single line of pearl balloons are not suitable for outside events as they do not have the bouyancy to withstand the smallest of winds but they're fine for indoor events. This style was more popular in the 90's at weddings but as they are not suitable for outdoors they are used less and less.
Fun Run Arches
Milemarker and fun rum start arches are becoming more and more popular. Depending on the number of participants the arch may need to be kept well above the runners so scaffolding towers are required. We use larger 16″ helium filled balloons to give buoyancy and strong 500b nylon line to keep everything in place.
For smaller fun runs scaffolding is not required and we can use a frame with base plates. In city areas we can secure to lamp posts or buildings if we have permission from the owner or local council.
How to make a balloon arch: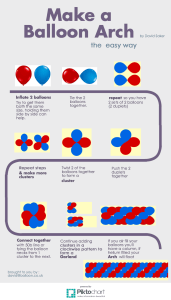 Inflate the balloons and tie them together into 'duplets'
Twist the 'duplets' together into clusters of 4
Twist the line around the balloons to lock them in place
Repeat and spiral the colours to make a pattern
Knock the arch into shape to avoid an 'A' shape
Use sand weights to hold it down
For more help see our video.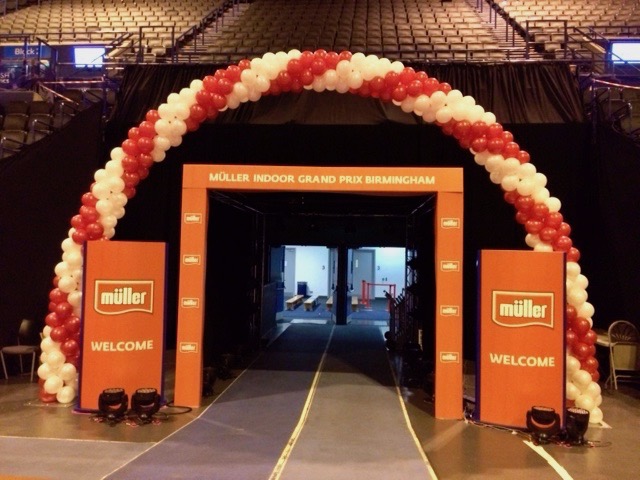 This arch at The Barclaycard Arena in Birmingham is longer than the average arch. Usually the arches I build are made with 5 or 6 carbon poles but this one used 8. I wouldn't feel comfortable using 8 poles outdoors even in calm conditions but indoors it was stable and...